SO YOU'RE GETTING MARRIED? CONGRATULATIONS!
It is going to be a beautiful and momentous day in your life and we guess you are here checking out our website because you're looking for the right people to capture it.
Wedding planning is so exciting but can also be a bit overwhelming, so many choices and decisions.
So we want to try and help keep this big decision a bit simpler for you. Guiding you through all the info you need about us, on this one page. So you can decide if we might be the right fit for the role of photographers on your big day.
The No. 1 question you need to ask yourselves right now is do I really like the wedding photos I see before me?
Scroll on down and take a few moments to have a peek at just a sweet handful of all the amazing weddings we've had the pleasure to capture before you answer. We'll meet up again further down the page.
Hello again!
Perhaps now ask yourself, do I get a little buzz of excitement when I look at these wedding photos and begin to picture myself and my partner all done up in our finery on our big day, laughing and smiling like these couples?
If the answer is Yes! to the above, show your partner and see if they agree.
Then please read on because we may just be the right photographers for you.
It's about time we introduced ourselves.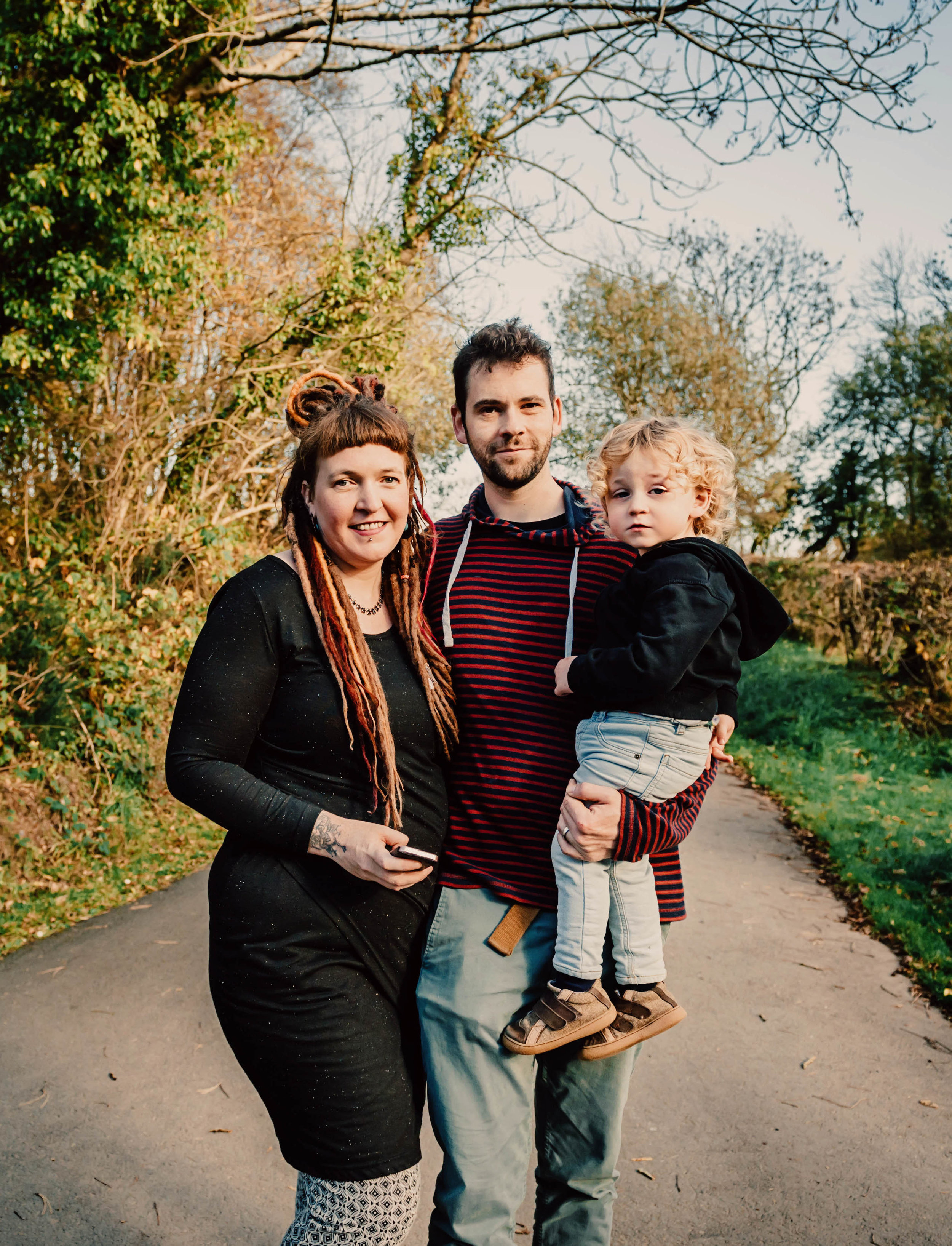 We have been working together as full time wedding photographers since the summer of 2012.
On midsummers day 2015 we got married in our own garden and had a humanist ceremony. So the shoes have well and truly been on both feet.
We love our job, we love each other, we love hearing other people's love stories, we love when our clients laugh when we say or do something goofy. We love our beautiful son - Art who was born in June 2016 and our 2 cats - Fairuza & Spooky. Paul loves jazz & blues and producing and playing music. Ria loves all things creative and is currently into making clothes and creative cooking ; we both love red wine and good food. If you ever need to feed us at a big do *hint hint* it's good to know Ria is a Vegan and Paul is Vegetarian.
Two photographers with one passion and vision : "To artfully capture beautiful moments, heart warming stories, and the true spirit and personalities of our clients, in a relaxed and unobtrusive fashion."
Ok now you know a bit about us and what we look like…lets get back to you.
After the initial excitement you may feel a rush of nerves and think but I'm no good in front of a camera…I'll be so awkward. Self doubt sets in and you may think those other couples must just be really confident to look so happy and natural in their photos. Well we are politely going to have to disagree. You see 98% of couples we work with tell us initially."I'm no good at having my photo taken" or something along those lines . We totally understand this feeling…we were exactly the same on our wedding day.
So before you even feel the urge to utter those words…let us try and reassure you from the offset.
We are capturing you on the most joyous day of your life so far, you in all your natural beauty and splendor. So please believe us, we know from experience that very swiftly all the self doubt will disperse and the awkward laughs will suddenly become real joyous belly laughs as you realise it wasn't as scary or hard as you thought standing there, being you, in love with that gorgeous human looking back at you and being happy. We just happen to be standing their capturing all that and all the moments around it. We really aren't scary or bossy. We are gentle and laid back photographers with an appreciation and eye for capturing real beauty and special moments.
Its super important to us you that you feel comfortable with our presence and ideally are barely aware of it for most of your big day. You have much more important and wonderful things to be focusing your attention on and lots of partying to be done. One of the best compliments we frequently get from our couples is that they barely noticed us on their wedding day but that we still managed to capture all the important moments and more.

We include a complimentary and optional pre-shoot/engagement shoot with our wedding package. If you fancy it, it's a really fun way to get rid of any camera shyness before the big day and a good way to get to know each other. We can have a good old natter in person about your wedding day amongst other things.
Right, now if your still with us, lets take a collective deep breath and get down to business.
We like to keep our pricing and wedding package options as simple as possible as well.
If you book us for your wedding day
you get all of the following for £1300.
Full day coverage by 2 photographers (us pair!)

Coverage of your day within the parameters of preparation shots in the morning (with both the bride & groom if we can) up to 3-4 songs after you first dance.

On average you receive 500-600 final edited images.

We upload them in high resolution to a private online gallery for you to view, download and share. (No watermarks, no extra charges for friends and family if they want to download some as well.)

We'll send you the gallery link and password.

We also send you a slideshow story video of a handful of your final images put to licensed music which you can view, download and share. See the example slideshow using some of our fave wedding images below.

We send you up to 40 edited images as a preview a couple of days after the wedding in a mini gallery. (We also like to share these on our facebook and social media if you give us permission to show you off. We are totally fine if you do prefer them kept private.)

An engagement/pre-wedding shoot is complimentary with our wedding packages. It is also optional. It is also good fun.

Our editing style is eclectic and artistic and we give you a good mix of images and styles. Some simple, some arty and about 15% in black and white.

Depending on the time of year and how busy we are it can take between 6 weeks to 20 weeks for your final images to be carefully edited and supplied to you. We will keep you informed of your eta.

Please note: We are based in Dundonald, Northern Ireland so an extra travel charge may be required if your wedding location is over 50 miles from Belfast.
Fancy some extras for your wedding package?
Package Add Ons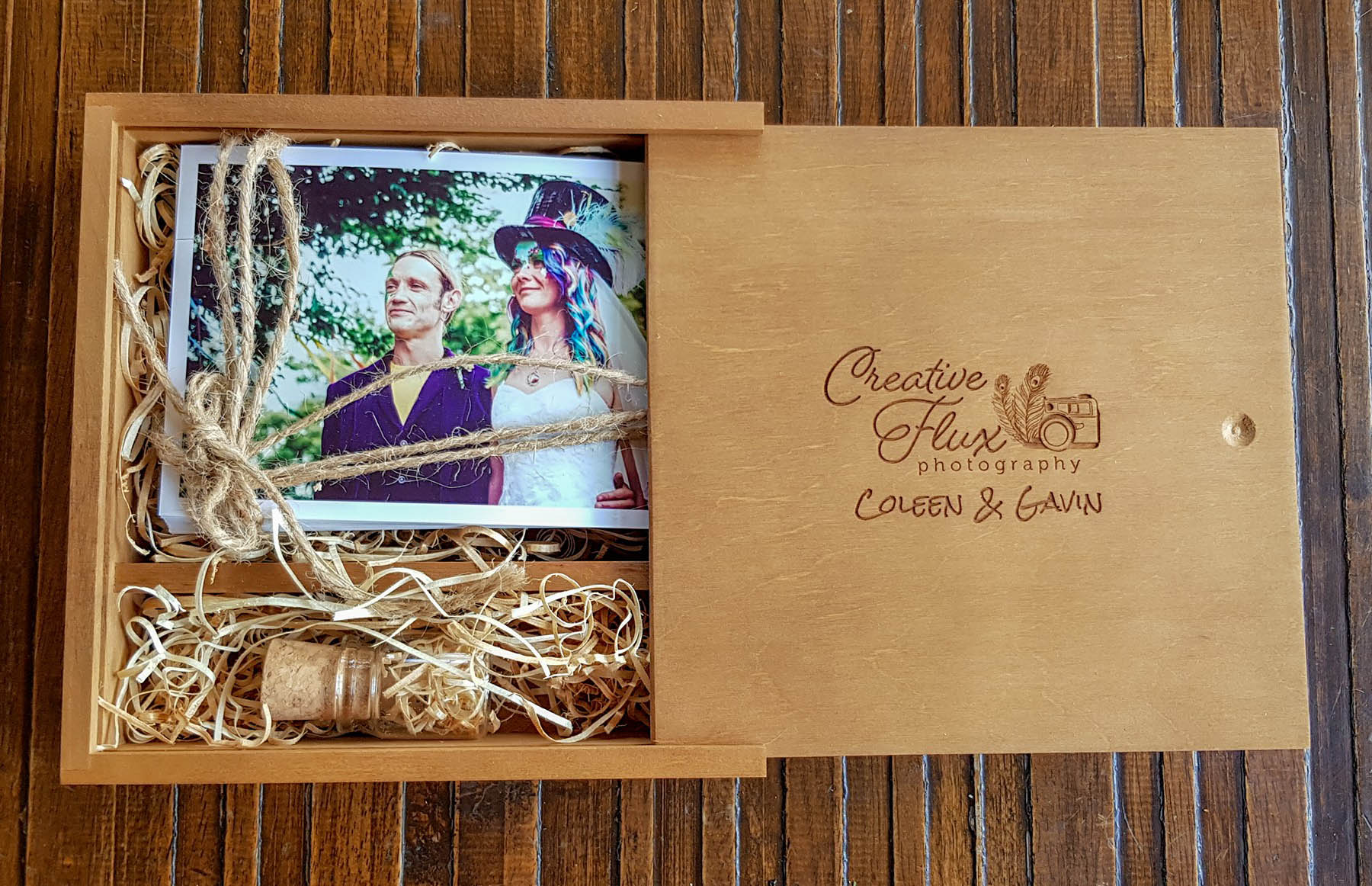 Get a gorgeous dark pine customised box, glass bottle usb & 30 small prints for an extra £100.
Our square hardback albums are printed on lustre photographic paper with lay flat binding.
It costs £260 pounds for our largest album. Its has 90 pages and we recommend selecting 150 images to get the best out of the design.
You can then also order a smaller version of your album for £90 each. Good for giving to the parents!
We ask that photo albums be paid for and organised after the wedding when you can select the photos you'd like in them using your online gallery.
So now you've read all that, what do you think? Could we be the photographers for you?
If so please get in touch using the contact form below and tell us about your day.
If we have your date free you can secure it with a deposit of £200.
We'll then send you our wedding contract and all the other practical info you need.
If you have more questions or perhaps don't need us for a full day please send us a message anyway, we are always happy to customise a quote for you.
We welcome enquires from everyone- regardless of anything, love is love.
It's your day, we hope you're looking forward to it and enjoy it to it fullest when it comes around.
It would be a pleasure to capture it for you and tell your story.
We want you to look back at your wedding photos and be jealous of yourselves.
Happy Regards,
Ria & Paul Elliott
Ready to send us a message?
We'd love to hear from you and will reply asap.
Contact Form